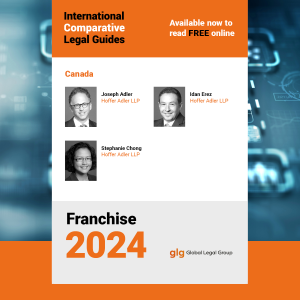 Hoffer Adler LLP is pleased to have once again contributed the Canadian chapter to this year's International Comparative Legal Guide – Franchise 2024 published by ICLG. Click on the image in this post for in-depth answers to important legal questions about franchising in Canada. With contributions from Joseph Adler, Idan Erez, Stephanie Chong and Stefan Ayache.
This article was first published in ICLG – Franchise. 
---
Hoffer Adler LLP provides practical and cost-effective legal assistance to both franchisors and franchisees about all aspects of the franchising relationship. If you have any questions about a franchising matter, we would like to hear from you.